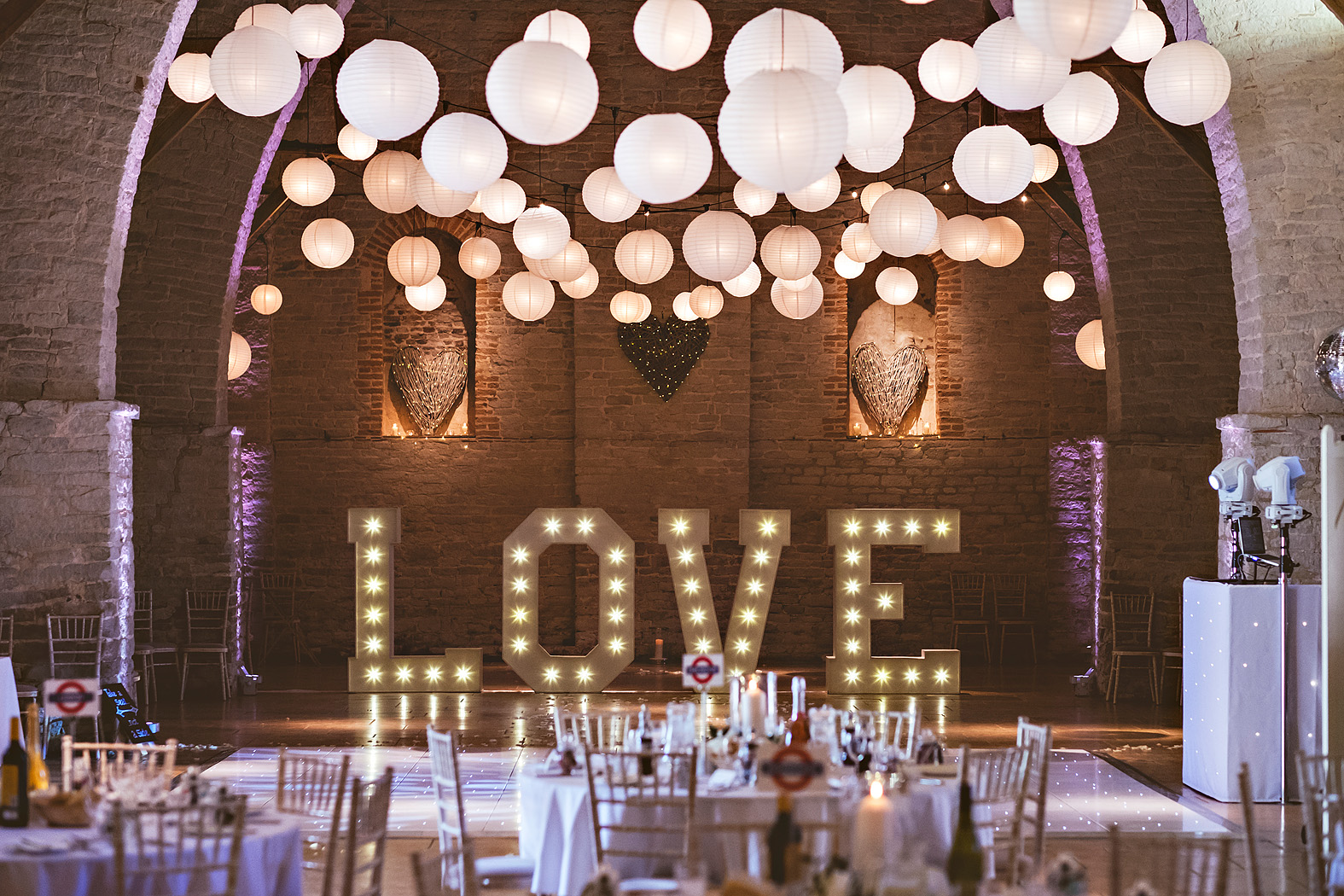 Hampshire Wedding Venue – Tithe Barn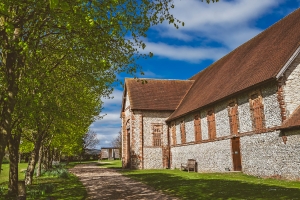 This is Tithe Barn near Petersfield. A perfect blend of rustic space with almost cathedral like qualities. You'll be hard pressed to find a barn with the same character. Since I'm a recommended Tithe Barn wedding photographer I get the absolute pleasure of working there many times a year. At last count I've been there nearing 60 times. No matter how many times I go I'm always blown away by the amazing architecture and open space.
It's one of the few venues that can be a blank canvas. You can craft it to be exactly what you are looking for. From vintage decoration to modern lighting you have complete control on making the space exactly what you are looking for.
Its also a building steeped in history. The first mention of the land surrounding the barn date back to 1273 and whilst the buildings own story is a bit of mystery its now Grade II listed.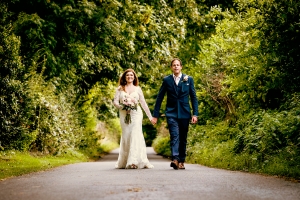 Practically, its complete with fully modern facilities ensuring that all your guests are perfectly looked after. As I'm there quite a bit I can also answer one question that I hear so so often. 'Is it cold in the winter?' Absolutely NOT. Underfloor heating and stone floors make for an incredibly cosy atmosphere. Its one of the few venues I work at in the winter where I don't wear a jumper.
The grounds that surround it are peaceful and filled with rustic charm. I'm so proud to be recommended there and call the folks who run it friends.
The venue is fully licensed for weddings and can accommodate as many as 200 or more people should you require it. The space and flexibility means I've seen weddings from 40 to 220 all work perfectly.
What You Need to Know About Tithe Barn
If you've been on the hunt for a wedding venue you will no doubt have come across many types.  Hotels, houses, barns, tipis.  These days you can make a wedding venue out of just about anything.  I've decided to make the assumption that if you're reading this you're probably quite interested in the wedding barn genre.   Excellent choice.  So let me focus on the core things I think you need to know about the barn.
A Blank Canvas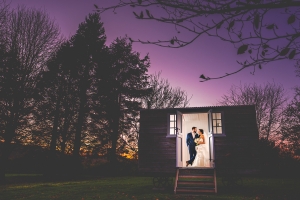 One of the Tithe Barn's unique qualities is its total ability to be a blank canvas.  You have so many options and ways of styling the barn that make your wedding day unique.  Let's be honest.  It's a big space.  So you need to fill it either with great styling or lots of people (or both).  As I mentioned before I've photographed weddings as small as 40 and as large as 220.  Yes, it really is that flexible.
If your wedding has small to medium size guest numbers I feel that you need to bring the ceiling down.  Say what?  No, not literally.  What I mean is that you want all the impact of the cathedral like height but you want it to feel cosy too.  How can you do this?  There are a few ways (by the way, links to relevant suppliers will appear at the end of the page).
Accentuate the arches with coloured uplighters
Turn off the upward pointing arch lights
Decorate the beams with bunting
Use festoon lighting
Put candles on the wall and window ledges
Add impressive floral arrangements in the recessed arches
But what if you have a large wedding?  The truth is, there's not a lot to change.  With a large number of guests the styling still suits the barn perfectly.  What I would say is that they may not be as necessary (apart from turning off the upward pointing arch lights).
Common Questions to a Tithe Barn Wedding Photographer
As a Tithe Barn wedding photographer I often get asked questions about the venue and how things work.  Sometimes photographically and others logistically.  So here's a few Q&As to get you started.
 What happens if it rains?  If your ceremony is elsewhere you will feel almost no impact at all.  The tables will be set up by your caterer and will likely be hidden behind the 'blinds' until a spectacular reveal just before guests are called to the wedding breakfast.  However, if your ceremony is at the barn then you'll have just a few minutes of transition whilst space is made to move the tables (largely set up at the back) around to where the ceremony was previously held.  I know what you're thinking.  "Oh my, this is going to be a nightmare".  STOP!  It's not.  In fact, it all happens so smoothly as the dynamics of large groups take on a lava like feel and folks slowly feed into areas that are now free and available.  It all takes no more than 15 minutes and suddenly everything is switched and the caterers are off and running.  Believe me.  You'll be hugged, kissed, squeezed and selfie'd so many times you won't even notice.  Once complete the day then proceeds like a winter wedding.  The space is glorious and ambience second to none.  In short, it will be just fine.
How should I lay out the wedding breakfast tables?  For me, there's only one answer.  Sure, you'll see it done two ways.  But as a photographer I prefer one.  That's not to say that you have to do it this way, only that from a photographers point of view I prefer a certain way.  The two ways are top table on the left or top table at the wall end.  If you're new to the venue you may just want to gloss over this for now.  It's a bit too specific for now.  However if you're deciding let me state my case for the 'on the left'.  Ideally (either round or long) you want to only be half as far away from the furthest guest as possible.  So by being on the left (and half way down) you'll achieve that goal.   Plus, as a photographer I can now work the arches and other architectural features into the speech photographs.  This may seem selfish but I've seen a few speeches lost on the folks at the back when oriented the other way.  At least in the middle there are no 'cheap seats'.  This leads me nicely into my next question….
Do I need a microphone for the speeches?   Yes and no.  It depends on the number of guests.  People soak up sound waves.  So more guests means more scope for a microphone.  If you set your top table on the left then its a number of guest combined with the voice qualities of your speakers.  If you set it at the end then the answer is yes.  You will absolutely need it otherwise folks from about half way back won't hear a thing.
Where should we have the family group photos?  There are a few locations outside, all of which are at the front of the barn.  The pathway works when the ground is soft and stops the ladies in their heels from sinking.  After a prolonged dry spell there are a number of locations near the trees on the right.  If it rains then the balcony is ideal but may require a rethink on the number of people in the photo.
What happens to all of our 'stuff' at the end of the night?  Easy.  It's collected by your caterers and placed in a locked room across the courtyard ready for you to collect the next day.
Can we have an 'everybody' photograph?  Yes.  From the balcony looking down.  It requires lighting and requires some logistical planning.  It's a constant battle against physics but it is possible.
Long top table or round?  Your call 🙂  I've seen it work perfectly with both.  Just depends on your vibe.  Round, to me, is more relaxed.  Long can accommodate more people.
Any other questions?  Please get in touch.
Tithe Barn Weddings to Review
Here are a few galleries and blog posts from me, an experienced Tithe Barn wedding photographer.  I will continue to update this page throughout the year. So feel free to visit every few months.
<-- Return to Hampshire Wedding Venues